A companion to the Life-changing devotional to Guide You to Healthier Weight and Abundant Wellness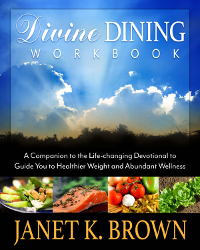 Add the workbook for 2017



Are you feeling discouraged and fat? Has life escalated your eating and your low self esteem? Starting a new program to eat healthy is important. That takes care of the physical, but any compulsive action requires healing of also the mental and spiritual. It isn't enough to give up fattening foods. We must fill the vacuum with Christ.
The workbook covers fourteen new classes.
VICTORY THROUGH JESUS 
Many have read the daily devotions in Divine Dining: 365 Devotions to Guide You to Healthier Weight and Abundant Wellness.. Now, add to it the NEW WORKBOOK for Divine Dining. Try meeting at church or your home and each of you follow the class. If you don't have others that desire to join a group, follow the workbook at home by yourself; a perfect combination.
Read the devotion each day
As many of you know, I do little right now because of my health. If you need new information on the new workbook, contact me best through my Facebook link, or preorder the book through Pen-L Publishing (See above).
You may leave a comment here. God bless your 2017.